Reclaimed Wood Samples
Sep 3, 2012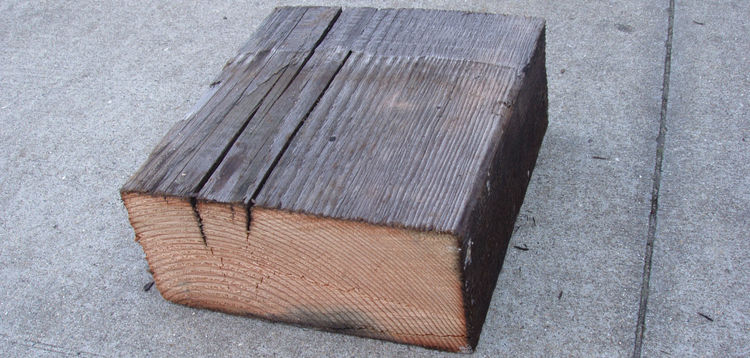 above: Weathered Picklewood Timber sample
Trestlewood sends out a lot of product samples. Samples can play a valuable role in helping you confirm that a certain reclaimed or other unique wood product is the right product for your application.
We have found that it is possible to expect too much of samples, especially in the case of reclaimed and other unique wood products, where no two timbers or boards are exactly alike. We believe that samples are most likely to be used successfully when:
They are used in conjuction with other product selection tools. Photos and specification sheets are two other especially important product selection tools (we will share some thoughts about these tools in future blog posts.)
Their relative strengths and weaknesses are kept in mind. Samples can provide the invaluable opportunity to "touch and feel" a product. At the same time, it is very difficult to capture the "typical" mix/range of a product line's characteristics with one or two (or even a handful of) small samples. There is no such thing as a "representative" sample.
They are used to confirm/finalize product selection decisions, not to instigate the product selection process. We have found that samples are most effective when they follow (1) the use of photos, specification sheets and other product information on www.trestlewood.com to narrow products of interest and (2) proposals which help pre-qualify products from a pricing standpoint.
Trestlewood is generally willing to fill reasonable, pre-qualified sample requests shipped UPS Ground at our expense. If you would like samples sent in an expedited manner, we ask you to cover the cost of the shipping.


---
Trestlewood makes no representations or warranties whatsoever relative to the accuracy of information included in or referenced by any Trestlewood blog post, whether that information is posted by Trestlewood or others. Any reader/user of Trestlewood blog post information takes full responsibillity for independently verifying the accuracy of such information and its applicability to (and implications for) its specific situation.