Reclaimed Wood Ceiling Ideas
Jul 20, 2012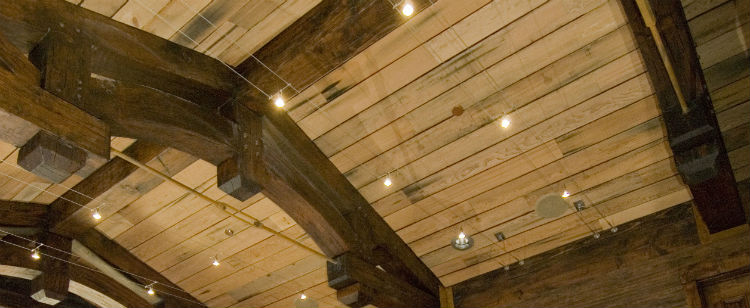 A lot of cool ceilings have been built out of Trestlewood antique lumber and/or beams. See
Reclaimed Wood Ceiling Ideas
for photos of a sampling of such ceilings. We hope that these photos will give you some good ideas for your own unique wood ceiling project. (The ceiling shown in the above photo uses our
Douglas Fir Picklewood Resawn Lumber
.)
Trestlewood ceilings cover a wide range of characteristics on several different fronts: weathered barnwood to fresh sawn lumber; clean to distressed; quite consistent coloring to significant color variation; refined to rustic; douglas fir to pine to redwood to mixed species to. . .; etc.
Trestlewood ceilings can have a tongue-and-groove (T&G) or other profile, but they most commonly involve square-edged boards butted up against each other. We love what skilled construction people have done with our reclaimed and other unique wood products to make some stunning ceilings. You and your contractor can decide the most appropriate material and installation method for your project.


---
Trestlewood makes no representations or warranties whatsoever relative to the accuracy of information included in or referenced by any Trestlewood blog post, whether that information is posted by Trestlewood or others. Any reader/user of Trestlewood blog post information takes full responsibillity for independently verifying the accuracy of such information and its applicability to (and implications for) its specific situation.